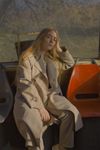 Kate Phellini, honored Photographer of The Year, winner of The 2019 EyeEm Awards:
"I created this Templates/Looks collection based on my long-term observation of the changing seasons and my fascination with light and colors. Nurturing this awareness allowed me to notice and collect a set of moods characteristic to each month of the year, from the juiciest sunsets at the sea to a rich tonal spectrum of grays around Christmastime in Warsaw.

"Der Marmeladenglasmoment" ("jam jar moment" in English) is a beautiful and complex German word that inspired the construction of this collection. A less literal yet no less precise description of what it means would be the following: a moment you want to catch and put inside a jar so that it remains unaffected by time, conserved to be enjoyed later in all its freshness. The jam jar allows us to dip once again into an experience we once had. You cannot pause or hold control of any second of your life. The closest you can get to it is through photography.
I hope this Templates/Looks Collection will expand your visual language with some new color shades and light treatments and will help you capture those precious moments that you don't want to fade away in all their (subjective) veracity. Beauty is a dynamic event. It can occur at any moment given the proper circumstances and context, and we as photographers need to be ready to capture it. And preserve it as if it were still a breathing, living scene full of colors."